National Parks as a classroom
More often, in my role as a consultant I hear teachers talking about context and I could not agree more.  Recently I was working with a teacher who was using 4 Square writing strategy to help her students write an informational piece of the recent wildfires in Tennessee. She was passionate about the topic but was concerned that her students would not be able to grasp the content because of a lack of context.  I offered to support in the classroom as I have traveled to the area.  It got me thinking about the ways in which we as educators can build a bridge between the classroom and the real world. One such way is our National Parks system (NPS).
The US national park system is extensive, expanding (Stonewall Inn in NYC was just designated part of the NPS) and  can feel very overwhelming.  I myself still struggle sometimes in trying to figure out what is protected under the NPS. I believe that all too often when you hear NPS you think of places like Grand Canyon, Yellowstone, and Yosemite, and rightfully so.  The reality is The National Park System touches every state in the US and many territories. Some with vast national parks and others with National monuments, historic sites, preserves, lakeshores, seashores, rivers, trails, wilderness, parkways, and memorials.  The list is as diverse as it is long, each place providing a unique opportunity to learn and absorb something amazing at the United States.
And while simply just finding yourself at an NPS site will open anyone up to a world of learning.  But as a lifelong learner when I find myself in a park, I immediately think how can I make this work for kids.  Fortunately, the NPS has already thought of that with their Junior Ranger Program.
What is Junior Ranger
At many of the places run by NPS is a program called Junior Ranger. While some may see as kitschy at first (even I was skeptical) a world of learning awaits. As an educator, what better way to tackle a learning opportunity than with a guide book that is interactive, engaging, and fun. Better still, for children who meet the requirements for their age, a badge is presented to them as a token to commemorate the learning experience and visit.
Each junior ranger book is unique to its park or park system. Often times parks along the east coast are historical in nature and the authentic learning experiences engage children in a myriad of activities. For example,
While parks in the western park of the US tend to be more geographical with the vast amount of land protected.  At these parks, the learning is often more focused on  the history of the Native People, animals, and  geography.  For example,
When a park is not an option
WWhile I believe every teacher wants to get their students out of the classroom to learn, sometimes that is not always an option.  Often times, we as educators, spend hours looking for ways to engage our students but again NPS has found ways to bring the parks to the classrooms through Junior Ranger programs that can be done remotely.  Topics for these programs include;
Junior Ranger Resources
There are a number of websites that chronicle their experiences with Junior Ranger. Below are a few that I have visited to learn about their junior ranger experiences.
Additionally, many National Parks have their programs online so you can front load before going to a site.
Web Rangers
If all that is still not enough learning to be done, the NPS has gone one step further creating WEB RANGERS!

This interactive site breaks down activities by level and interest. Web rangers is an extension of the Junior Ranger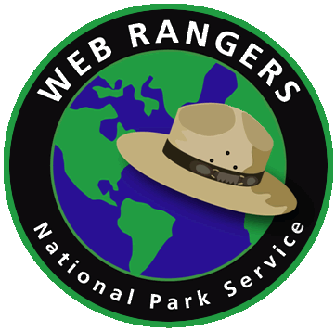 program, allowing students to reach learning experiences that may not otherwise be accessible for them. Broken down into categories, web rangers is highly interactive and packed with learning.   It does require the students to have a username and password so it can remember their progress towards earning rewards but it is worth the setup.
Essentially, as educators, an entire learning experience is already created for us at a location which exists, in part to educate.
All we have to do is find our park!